Our Kennels
The kennels block has always been used to house animals. It is a traditional French stone building, the thick walls providing excellent insulation. They help to keep the sleeping quarters warm, windproof and dry in the winter, cool and shaded in the summer months.
The kennels are surrounded by farm land, so the dogs will not disturb our neighbours. Each kennel has a sleeping area of 3 metres square (a large enough area to kennel 2 dogs if required). The kennels are equipped with individually controlled lighting and heating, with a raised sleeping platform. Each dog has an individual grass exercise area of 10 X 2 metres, shaded at one end.
It is not necessary to bring any beds or blankets as they are provided as standard. If you feel your dog would benefit from his or her own bedding you are of course welcome to bring it with you, your dog may feel more settled with it. We would also encourage you to bring along some toys.
All the kennels are cleaned and disinfected once a day.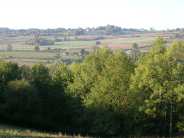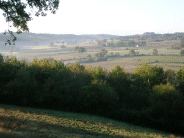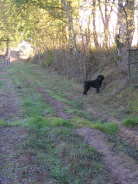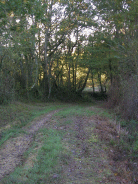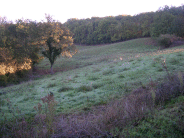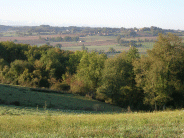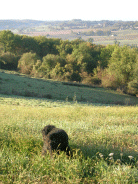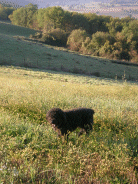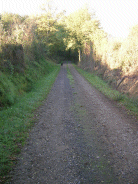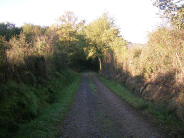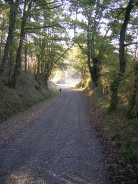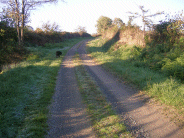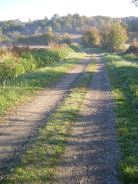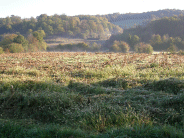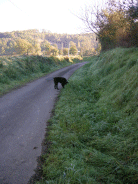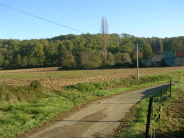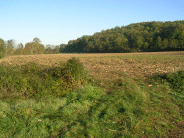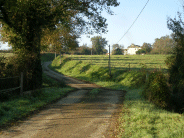 Our kennels are situated in over 3 hectars of pasture in the middle of the countryside, allowing for varied daily walks. Above, are views of a typical of a 30 minute morning walk. The route, length and terrain for a walk can be varied to meet everyones needs. Every dog is walked twice a day.
We use Royal Canin dogfood, which permits a diet adapted to the breed and age of each dog. For those pets with specific diets, an agreed variation can be given on request.
Please make sure that your dog is fully vaccinated and that you bring the up-to-date card with you. We should be told of any recent medical treatment, or any current medication. We must be informed of any bitch in season or the likelihood of a bitch coming into season. If the Annual Booster is due it is suggested that you have this done a couple of weeks before bringing your dog to the kennels. In the event of illness our vets will be called immediately. The owner will be responsible for all expenses.
Vaccinations required are:-
Distemper - Carré
Rabies - La Rage
Parvovirus - La Parovirose
Infectious Hepatitis - Hépatite de Rubarth or hépatite contagieuse canine
Leptospirosis - La Leptospirose
Although we are quite happy to administer pills, eye/ear drops and creams etc. we will not accept any dogs with stitches or recent wounds, or in bandages as we are not qualified to give the specialised veterinary care and attention these require.
To go back to home page click here
---
Revised - 14 May 2009 Telephone: 05 59685405 info@k9France.com