Our Location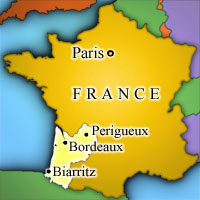 Betracq is a small commune, in the south west of France, at the foot of the Pyrénées. We are 5 minutes from Madiran, 15 mins by car from Maubourguet and Lembeye, 1 hour by car from Pau and Tarbes.
Maubourget (8 km S) Vic-en-Bigorre (18 km S) Marsiac (20 km E) Tarbes (40 km W) Pau (40km W)
Click here to display a Michelin map with detailed location details.
The kennels are part of a six acre farm, which include our house, a stable block (home to two horses), outbuildings and a couple of old tobacco drying sheds. The kennels are in a converted two storey brick built building with a balcony. Our nearest neighbours are 1 kilometre away and we are surrounded by woods and green fields which means plenty of room for the dogs and numerous walks.

To go back to home page click here
---
Revised - 14 May 2009 Telephone: 05 59685405 info@k9France.com